The Lady of Vendaval [Synopsis]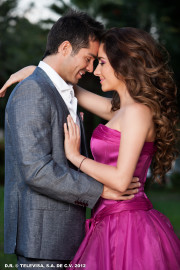 "La mujer del vendaval" tells the story of Marcela Morales (Ariadne Diaz), a young woman who suffered the abandonment of his mother, the death of his father for depression and her fiancé left her at the altar just the day of your wedding.
But after Alessandro Casteló know (Jose Ron), who becomes the love of her life, but fate was in charge of giving them a very difficult test, as she becomes the main suspect in the theft of a necklace very important for Alessandro family.
This triggered a series of conflicts that joined the envy and desire of many people to separate at any cost.
In recent chapters was found not to Marcela who extracted this necklace Casteló house, but their relationship with Alessandro is extremely damaged. We invite you to discover what will happen to the love of these two human beings who were born to be together.
Tweet