TNC's New Series Tackles Women Empowerment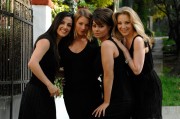 With the phenomenal success of Asia's first 24/7 Telenovela Channel, viewers are set for another season of a new and exciting TV series.
PALABRA DE MUJER or A Woman's Word is the story of four women: Vanessa, Paulina, Fernanda and Matilede who are facing many predicaments in their lives – love and disappointment, passion and regret, triumphs and failures. Palabra de Mujer is a series anchored on portraying women empowerment and how these individuals deal with various life situations.
Vanesa takes the first step as she collaborates with her friend Delia in putting up a production house and a TV show by and for women. Fernanda, Paulina, Matilde and Irmita come as Vanesa's trusted staff, which will turn into a good friendship among them.
A Woman's Word Teaser
Vanesa needs the show as start of a new life after the failure of her marriage. Aside from the pain, she is also left with the responsibility of raising her teenage children on her own.
Paulina is from a rich family, but her privileged life changed drastically when her father left them when she was a child. She does not believe in love, until one day her father returns seeking her forgiveness.
Fernanda is the business expert. She is a single mother. She experiences the failure of loving someone but later on finds another person who will appreciate true love and a more positive outlook in life with her.
Matilde is the creative genius of the show. She comes from a humble background. She believes that a person has to be realistic when it comes to love but later on fights for it against all odds.
Kaya Ko (A Woman's Word Music Video)
These characters will show what real women are and will prove that a woman's word is just as sharp and strong as men's, as they struggle their way through the world they live in.
Premiering soon at The TeleNovela Channel, SKYCABLE Channel 60 and hundreds of local cable operators nationwide.
The TeleNovela Channel, Bringing You Closer to Life's Drama.
For inquiries, you may call The TeleNovela Channel at (632) 753.1609 or (632) 753.1654. You may also visit us on Facebook: TeleNovela Channel, Twitter: TeleNovelaTV or text us at 0918 803 8728. Email Us: info@telenovelachannel.com.
Tweet